Please join us in congratulating these remarkable people pointed to make a difference in the ID/DD community.  As winners of our annual Hudson Regional LTC Pharmacy Scholarship competition, they have each been awarded with $1,000 for their BSN or MSN Nursing Program and covering 1 year of membership dues in the NYS ID/DD Nurses Association.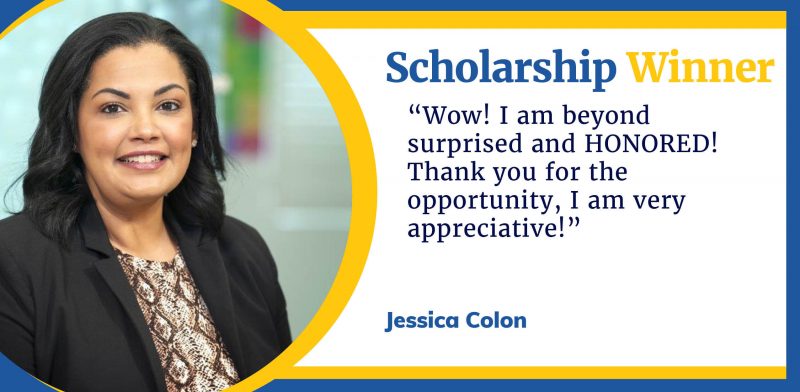 Winner #1: Jessica Colon
Jessica Colón, RN, Life's WORC's Nursing Administrator, has been working in the field of Intellectual and Developmental Disabilities for over 18 years. She began her career as a Direct Support Professional. She attended Nursing school while being a part of the Management team of a Crisis & Respite program. After graduating Nursing school, she became the RN for the same programs she managed.
 Jessica joined Life's WORC in 2013 as the RN Educator, teaching and developing all medically related training curriculums to direct support level staff. In 2015, Jessica was promoted to Director of Nursing, directly overseeing the nursing care for a quarter of Life's WORC's Residential programs. In her role, she functioned as a coach, collaborator, facilitator and support system for residential nurses. In March 2020, Jessica was promoted to Nursing Administrator. She is responsible to ensure regulatory compliance of the nursing department by performing oversight of all related treatment and documentation. She monitors the compliance of all medical systems and operations throughout the organization, and collaborates with interdisciplinary teams to meet state regulatory objectives.
 Jessica is most known for her infectious smile, bubbly personality, and "Good Morning, Sunshine!" Jessica is a strong advocate for the people we support, having the health and safety of people at the forefront, builds and maintains positive relationships with the people supported, staff, and colleagues. "Nursing isn't just about the technical help we can provide; it's about the compassion we show serving as a person's advocate in any way that we can. Assisting in stabilizing a person, medically or psychiatrically, so that they can live a quality life is my greatest joy." Jessica hopes to continue to learn and grow in the field of developmental and intellectual disabilities, so that she can be a change agent in her community. "This isn't just a career for me, I'm a lifer!"

Winner #2 Tammy Ellinger
Tammy Ellinger is an ambitious and enthusiastic Community Mental Health Nurse (CMHN), working with the Onondaga and Oswego County Family Care Program. She has enjoyed her 30-year career with the Office for People with Developmental Disabilities (OPWDD). She is also a full-time Family Nurse Practitioner (FNP) student at Binghamton University. 
Her goal is to complete the FNP program in May 2022, then pursue my Psychiatric Nurse Practitioner credentialing. My great aspiration is to continue my employment with NYS as a Family Nurse Practitioner within OPWDD to serve the Intellectual disabled/Developmentally disabled (ID/ DD) and psychiatric populations, while enriching their lives and becoming a stronger advocate for these individuals. 
In her career, she has enjoyed various direct care positions that allow her to collaborate with the individuals, assist in self-advocacy and increase their quality of life and daily experiences, setting goals, medically, physically, spiritually, and socially, while advocating for their rights. One of many, great achievements, comes from the gratitude that she hears from individuals is the lasting impression she leaves as someone that is dedicated, caring, compassionate, and consistent; that will go to any lengths to help them achieve their goals and allow them to live a healthier, happier, more fulfilling, and long life.